FLEMINGTON, FASHION & MELBOURNE'S BIGGEST WEEK - SPRING CARNIVAL 2016 wrap up
We came, we GIPHY'd, we sipped champagne & rode the Flemington Ferris Wheel
I'm sure most of you are feeling the 'festive season flutter' now the warmer months are truly are upon us here in Queensland, the days are getting longer and the social calendars are filling fast!
The delay for this wrap up is in light of the absolute perpetual fatigue following the epic lead up to the week, results of the truly amazing time we all had and the sultry weekend conditions on arrival back into HOT Brisbane! It's safe to say that say that Melbourne got us good! An absolutely fantastic week indulging in some amazing quality family time, a few too many Brunetti's treats, fabric sourcing, fashion and of course some amazing race day fun with friends! And for the record, anyone looking at going to the Spring Carnival next year, get yourself to THE PARK! Honestly one of the best set ups I've ever seen! Amazingly themed, areas, food stalls, numerous bars, entertainment was next level and the little touches like cute GIPHY booths and custom illustrations were aplenty!
When we first booked flights and accommodation all the way back in May on what would be one of the BIGGEST bucket list items of mine, it seemed like it was soo far away with plenty of time to plan all things racing fashion! How mistaken was I!
For those who are only new on the racing fashion scene or have watched from afar, Melbourne is the PINNACLE of Australian Racing Fashion! Being the most prestigious event of the year, the race that literally stops the nation, naturally comes international beauties, show stopping millinery and some beyond amazingly styled outfits! Collating outfits for the 3 main race days is a fashionista's dream though also somewhat a stressful, STRESSFUL venture. It's not just about the bags, shoes, outfits, millinery, hairdressers appointments, getting in and out of cabs, ubers or public transport with handcrafted masterpieces on your head all the while ensuring you don't sink on the grass......
It's the months of planning, sketching, Sunday's spent fabric sourcing, stalking runways for inspiration, more sketches, a GIZZILON picture messages back and forth (think my running total with mum is around 5,000) hahah, building the 'looks' that you want to achieve. Now for the part that you don't truly consider when you are all 'warm & fuzzy' with your outfit choices, have shed blood, sweat and tears conjuring them up and are soooo emotionally invested in the certainty that you have nailed the perfection combination of current trends, palettes though of course with your own twist.
You look amazing, feel amazing but then it happens.....
(WARNING - Style and fashion is an art. Like any art it's always up for interpretation)
The judging panel and their solitude racing fashion opinion on the day is simple:
• May not like pink
• May not be comfortable with textural clashing
• May not like the way you pose
• May be over seeing bell sleeves
• May not like crowns
• May be thinking about the delicious espresso martini's they will have later in the birdcage

You can see a bit of a trend here? So really throwing out a bit of a bold statement, though unless they are ex-national finalists of previous fashions on the field, winners, racing fashion influencer's or milliner's within the industry then there is subsequent amount of variables. When you're literally wearing a little bit of your heart on 'your sleeve' it can be a bit of a blow to your fashionista ego not even make it through to the next round. Something to be mindful of and THE most important thing to remember is that it's just one person's opinion. Though I'm sure any contestant will agree, it's a dam good feeling having your number called out and better yet to be SASHED!
To the outfits
Milva Carucci Designs was represented not only for the first time on custom pieces worn by myself though also mum and a few stunning clients! For mum that was a fantastic achievement in itself to have her workmanship in amongst the best!
DERBY DAY
The first official day of Spring Carnival renowned for black and white and classic styles! Well Melbourne certainly delivered! An amazing, blue sky day, pleasurable temperature and being a Saturday it certainly brings Melbourne-ites out of hiding!
My Derby Day outfit started with some gorgeous textural brocade patent look fabric sourced a few months ago from The Fabric Store in Brisbane. Wanting something classic with clean, structured lines, mum and I decided to use a similar style from what I wore earlier in the year.
The ever amazing and talented Sophie of Allport Millinery worked her magic to create the perfect complementary piece! Deciding to go with the large off white texture sinamay disc allowed the outfit to have a little mystery though also a suttle statement. Shoes by Divaolina provided the clean lines and patent feel to be continued and additionally a hexagon shaped Olga Berg Clutch.
Mum's dress was a gorgeous fluted collar and bell sleeve combination in an offwhite and black contrast Josh Goot fabric also sourced from The Fabric Store. A custom piece by Liana of Sonlia Fashion added texture and femininity to the outfit.
I didn't have any luck in making it through the heats that day though we had a good day on the punt and enjoyed the hospitality and 'Park' vibes of Day 1!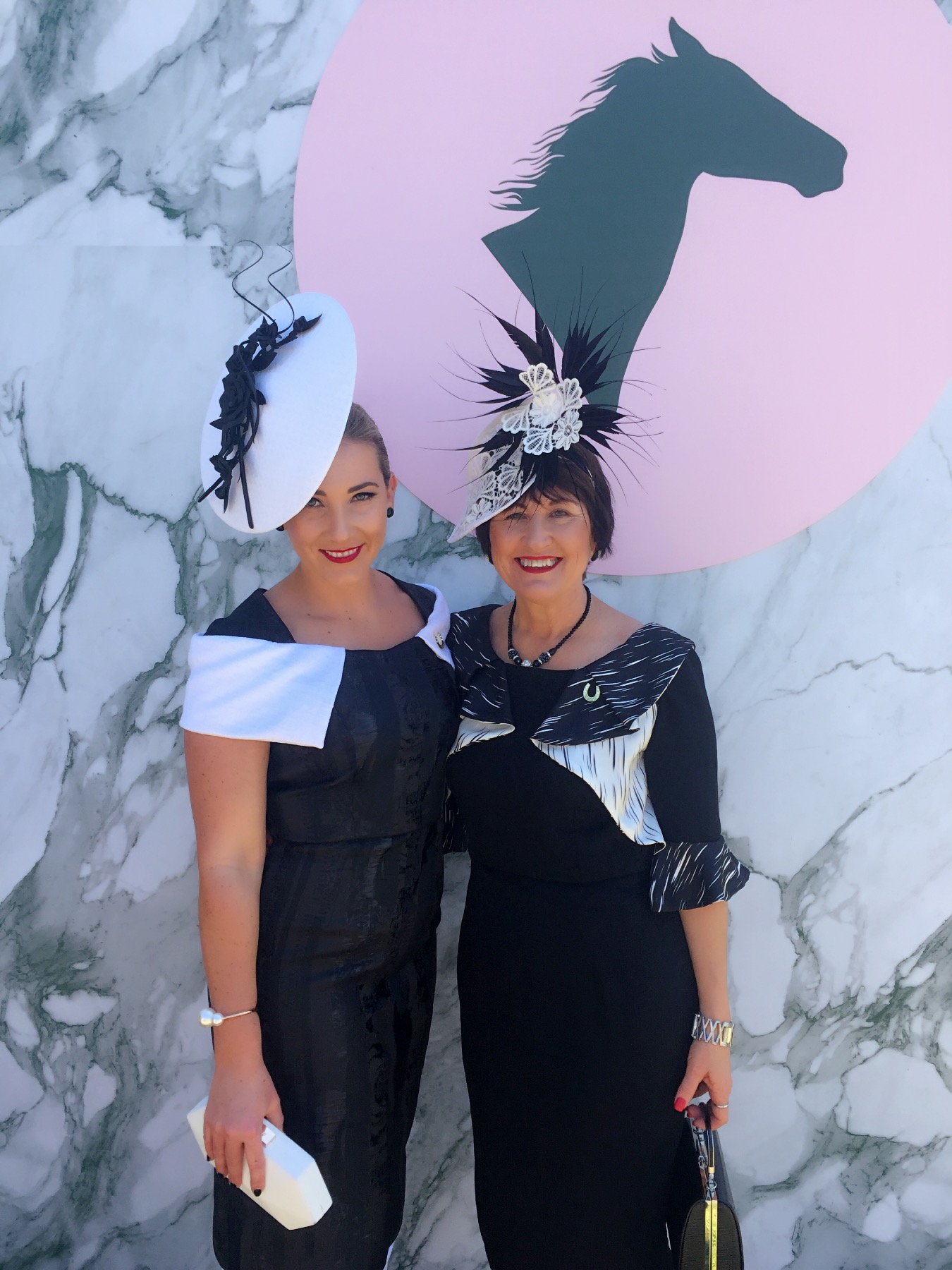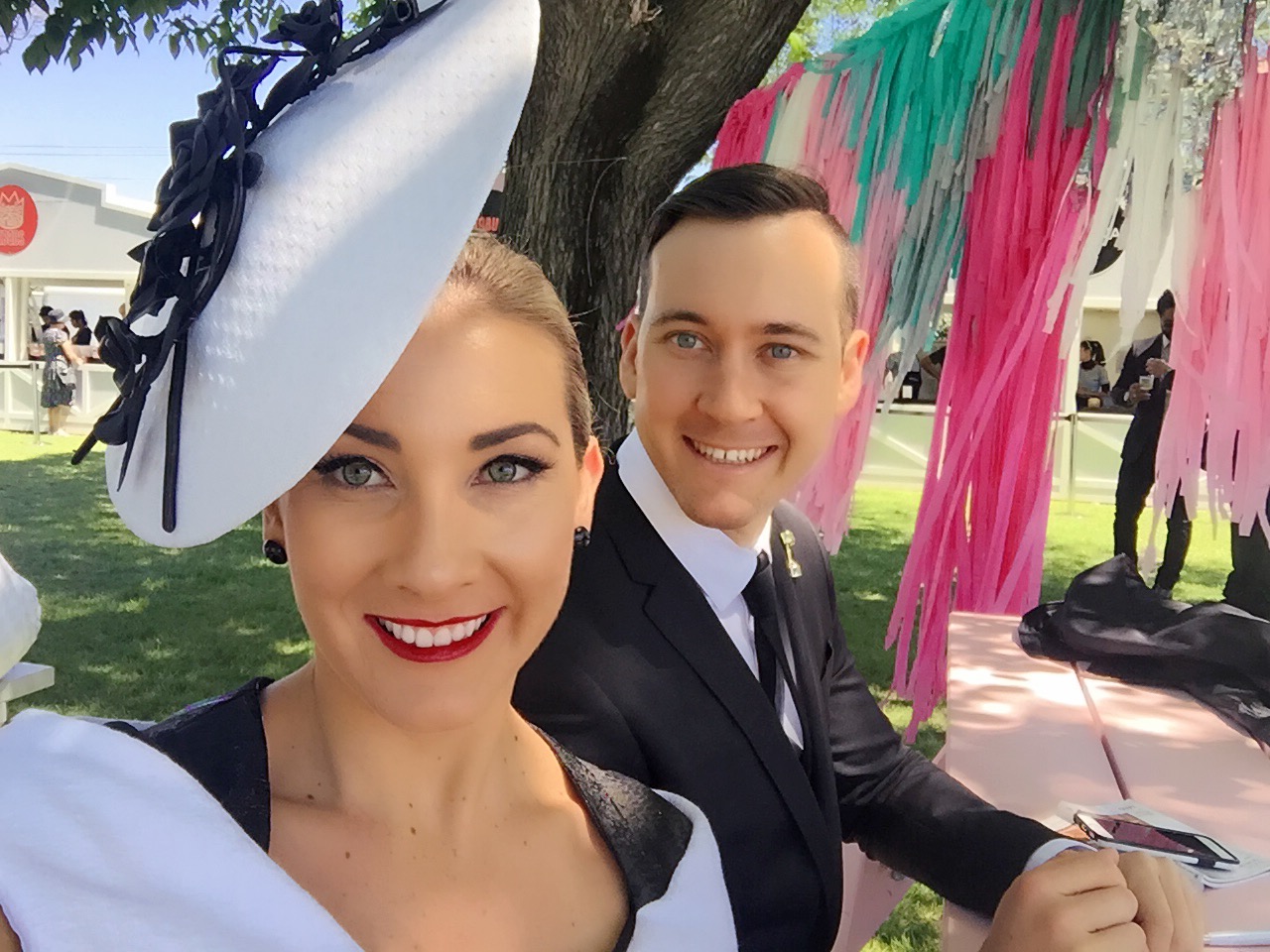 MELBOURNE CUP DAY
The race that stops the nation! Though also brings some amazing, unusual and showstopping pieces to the track! There were giant feather mohawks, bright colour palettes and some colourful characters on display. Some even took the chance to strip down to their bright budgy smugglers to make the most of Melbourne's sunshine!
The idea behind this impart was just all about the focal point of the fabric. This was sourced a few years ago again from The Fabric store in Brisbane. A gorgeous textured polyester fabric that had the sweetest blue bird print. With blue being a large trend this year, I thought it would be only fitting to keep the style simple to let the fabric really sing and then pick up the subtle blue in the fabric in accessories and millinery. Another big trend this racing season has been the boater and seeing the work of Ann Shoebridge last year I decided to go with a custom lace brim boater. Accessories were simple with jewellery from Lovisa, shoes Tony Bianco and a Colette clutch.
Keeping with a bird theme, Mum's amazing outfit also had a statement print in a tonal blue palette also sourced from The Fabric Store. With a gorgeous simple style to allow the print do the talking, contrasted bell sleeves allowed a section of flow to her outfit. Again complemented by an eye catching millinery piece by Sonlia.
As the nerves were a little less on being the second day, I was absolutely wrapped to have made it through to the Prelim finals. From there all competitors go back to the green room for a champagne and await the next round. From up to 80 girls it is cut to the Top 10! It was an amazing experience and somewhat achievement to make it through! Though the true highlight was spending the day enjoying the races, espresso martini's,dancing to Betty Who and Marcia Hines though having so many lovely people in the crowd compliment me on my outfit that day! That's what fashion really is about, loving your outfit, owning your styling and having a good time!
Not only did I make it through to the prelims but so did another of mum's clients. The gorgeous, bubbly Leanne who's personality is a reflection of her amazing, bright and eye catching pink, purple and gold outfit! Was so lovely catching up with them!
Cassandra also wearing a custom Milva Carucci Designs dress and her own millinery creation opted for a gorgeous purple and orange number that caught the attention of many photographers and spectators!
Amanda wore a stunning emerald green fitted lace dress that had an amazing back detail!
CROWN OAKS DAY
Last day of the carnival is always the biggest! Unfortunately mum and dad had to fly out that morning so today was the last day to really enjoy Flemington! The State finals for Victoria with the winner going through to the National finals where the winner receives up to $300k in prizes including a new Lexus!!
My outfit was simple in style as once again the fabric did most of the talking. Taking inspiration from Self Portrait, Mum had sourced the fabric from spotlight and opting with a combination of off the shoulder and a gathered sleeve. Being the feminine themed day of the carnival, lace and pastels seemed too fitting. This was complemented by my stunning crown by Allport Millinery! The inspiration behind the outfit was simple, 'Some days you just need to wear a crown'.
Keeping accessories to rose gold, the simplistic palette was feminine yet metallic. Shoes from Target and my trusty Olga berg clutch. Again I was so very excited to have made it into the prelim finals! So many amazing outfits!
Following the announcement of the winner it was a swift trip back to the city to jump on a plane!! Which might I add we almost missed! Quite the adventure, running through Tullamarine airport juggling hat boxes, suitcases all the while still wearing the crown which for future reference WILL prove difficult when going through airport security!
On reflection, I think my choices stood true to my style, body shape and personal 'looks' I wanted to achieve, though moving forward, Melbourne is in a bag of it's own! It's all about pushing boundaries within limits, being noticed though not focal, being structured though fluid and on trend without trending. You can see how easily it is to sit in that sash worthy position! *chuckle worthy*
Wrapping up, I can say that this has been a HUGE tick on my bucket list, some amazing quality time with my family and fashionista friends is what makes moments like these in our lives memorable! It's really not about the shoes, bags, fascinators or sashes, it's truly about the time and people for all facets of life that you surround yourself in these beautiful memories.
Absolutely bursting with gratitude the last couple of months preparation and wanted to take a moment to truly thank those involved with bringing my visions to life. To the ever talented Sophie of Allport Milinery thank you for simply creating such amazing pieces! Ann Shoebridge my blue boater is certainly now a favorite in my collection, thank you for letting those little birds fly!
But last but not least is my amazing and uber talented mum, words can't express how grateful and in oar I am of you and your amazing seamstress skills! I know I'm possibly your most difficult client though you never cease to amaze me!
P.S. If you're still reading, thanks for clicking the link! Your support to myself though most importantly my amazing Mum's brand is truly appreciated! Between us both, there is more creative inspiration then the walls of Chanel!
2017 is promised to be an exciting one with many plans on 'THE LIST". To stay up to date and in the know on sneak peaks, new fabrics and collections, make sure you subscribe and follow us on social media! Links are below.
Kerrie xox